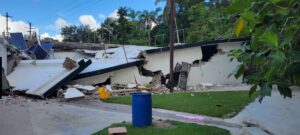 On Saturday August 14th a 7.2 magnitude earthquake struck near Saint-Louis du Sud, not far from Les Cayes.  As of Monday, August 16th, the death toll has risen from a weekend preliminary total of 340 to over 1300 and an additional 6000+ who have sustained injuries.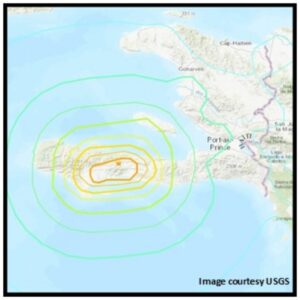 Meanwhile this has brought fears anew and reopened old wounds for people who distinctly remembered that fateful Sunday in January of 2010 when a 7.0 magnitude earthquake struck west of Port-au-Prince.  Everyone is on edge as aftershocks continue, being felt all the way back to Haiti's capital. 
At Least of These Ministries we are in regular contact with Peniel, Lhermon, and others on the ground in Haiti.  Peniel was not injured, although he has aggravated a sore back in the aftermath of the temblor.  Lhermon and his family are okay; their house has withstood the shock, but many around him were not so fortunate. 
Peniel tells us that they are in desperate need of drinking water, mattresses, and tents or tarps.  There is an additional growing humanitarian need for basic foodstuffs and fuel as this is one more indignity on top of a litany of events and hardship that seems to be the life of the Haitian people.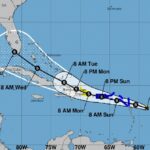 Adding to the new hardship and anxiety is the prospect of Tropical Storm Grace descending upon the island of Hispaniola, home to Haiti and the Dominican Republic.  Heavy rains have already begun in Haiti, making mobilization, rescue, and distribution of aid more difficult than it already is.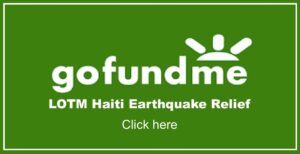 In response to this latest crisis, LOTM has set up a GoFundMe page.  Please consider making a donation there or on our Donate page.  The funds will be used specifically to spend initially on bottled/bagged water and mattresses for people to sleep on. Funds may also be used for travel expenses, food, and relief supplies for Peniel as he attempts to make his way across Haiti's Tiburon Peninsula from Port-au-Prince to Les Cayes and Jeremie. We hope to help meet the immediate short term needs until aid gets there so that he (Peniel) and his lead employee, Lhermon Banette can continue to assess damage and hopefully get Radio Lumiere back on the air. As you know, the Haitian people are highly dependent on Radio Lumiere.