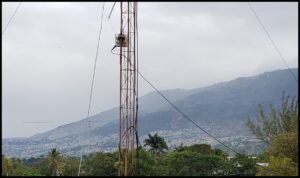 Boutillier is located at an elevation of almost 2790 feet, situated on a ridge south of Port-au-Prince.  It has a beautiful scenic observatory and hosts numerous antennae and stations for radio and telephone communications companies.  It's steep sides necessitates every occupant literally being "on top of each other" in an effort to maximize space utilization for communications and energy production.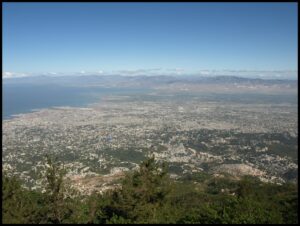 It is here that Radio Lumiere has a vital station in its broadcast network.  On the best of days it is a challenge to transport necessary materials to the site for any kind of construction or maintenance work.  Once on site, however, the challenges multiply because of the lack of flat space; or, almost any kind of space, for that matter.  Room for staging, storage, and conducting any kind of tasks is at a premium because of the crowded conditions and steep slopes.

An additional wrinkle has been added over the last year or two.  With the deteriorating security situation in Haiti, simply accessing the site has become risky due to marauding gangs on the streets and roads.
It is against this backdrop that LOTM was asked to assist Radio Lumiere in producing much needed upgrades to the station.  Even though we were reduced to essentially providing funding and prayer support, God's grace was sufficient, as always.
Even getting money into the proper hands in-country was arduous as the banks were frequently open only one day a week.  Funds would be wired in relatively small increments frequently in case anything were to go awry, thus minimizing any significant loss. 
With all of these challenges at hand, it was amazing to watch God work through these situations for us.  He provided a hedge of protection in travel, provided availability and accessibility of the materials needed, and equipped our Haitian brothers with the ingenuity and perseverance necessary to pull off the feat of erecting a "skyscraper" of solar panels! 
Thanks to our generous supporters, LOTM was able to provide the necessary funding for the steel, solar panels, batteries, labor, and other key system components to help reduce the station's need for scarce diesel fuel to keep the generator going. 
We are thankful and grateful to God for his provision in keeping this vital link in the Radio Lumiere network on line! 
Take a peek at the slides below; be sure to see the video of the panels going into place.

Radio Lumiere's station and tower at Boutillier, the only available flat spot on site.
At the back side of the buildings the hill goes seemingly straight down.
On this superstructure the solar panels were installed.