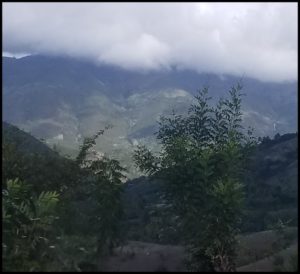 For several decades LOTM Executive Director Dale Long had a dream of installing wind power in Haiti. This started with stories from missionaries who in the past told of a small wind-charger at Morne Tet Boeuf, which had failed due to broken blades. Tet Bouef is the most remote location in the Radio Lumiere network and is located at high elevation overlooking a cliff.
This remote station is critical to the RL network. It is extremely difficult to get to, because of the difficulty of hiking up this remote mountain. The weather is usually foggy, but there is plenty of wind.
Wind power has been investigated and marginally attempted over the years but alternative energy centers have long said that solar power is more cost effective than wind power. In addition, in the past when wind turbine systems have been attempted the gusts and updrafts damaged or destroyed the blades. Also, as mentioned, at Tet Bouef it is frequently foggy which would reduce the productivity of solar panels. Dale remained interested in getting a strong turbine for Tet Bouef that would withstand the updrafts from the cliff.
During his last trip to Haiti the new Director of Radio Lumiere, Merilonne Mathurin, talked to Dale about getting wind power somewhere at the network. Dale returned to researching wind options with a renewed effort. Once again the alternative energy places said that solar is more cost effective; they had little to offer. Dale did some research on universities and international

experts and he found someone in Ireland who recommended Superwind GmbH in Germany because their products are very durable. Dale asked what about the issues with updrafts from the cliff at Tet Bouef. His contact responded, "I already understand that. Get the Superwind from Germany."
However, Superwind systems are much more expensive than other wind systems. LOTM's project funds were limited so Dale looked at other companies. He participated in a wind power company's webinar and after the webinar he called the speaker, who really didn't want to talk to him. But he did tell Dale that if a really sturdy product is desired, get the Superwind.
But it costs about $3000 for one turbine system.
So, Dale learned that everyone he spoke to said that Superwind was really sturdy, and the Cadillac of
wind turbine systems. Finally he called Mission Critical Energy of Getzville, NY, the U.S. distributor of Superwind. He explained what LOTM was doing in Haiti and what our needs were. Mark Dettmer, President of Mission Critical Energy said "WE WOULD LIKE TO GIVE YOU ONE".
As Dale said in recounting the story: "I almost fell off my chair!"
Dale then explained to Mark that the ultimate goal was a 12V system at our most remote site at Tet Bouef, but we needed a 48V system at our big FM system outside of Les Cayes. Dale said, "I was thinking we might buy one after they said they would give us one." Mark told him, "LET ME LOOK IN OUR WAREHOUSE."
Lo and behold, they had one that was the wrong color that they agreed to donate!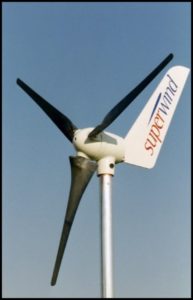 So in the end, Mission Critical Energy sent Dale and LOTM two turbine systems with all the necessary components, and also an extra set of blades, FOR FREE. It was a miracle! They also told him that they liked what LOTM is doing. They had donated a system before to another country, but that country was closed to outsiders and they never got to see any success. In Haiti, we now have achieved success with this first system online, which is being tried out at the more readily accessible Morne Brieux station. We are quite pleased to report this back to Mission Critical Energy.
The second wind turbine has been shipped and is in transit to Haiti with the hopes of getting it installed at Tet Bouef.
We at Least of These Ministries are indebted to Mark Dettmer and Mission Critical Energy for this wonderful, unanticipated donation. It will prove extremely valuable for the Radio Lumiere network in Haiti. We are grateful for their generosity!