Frequently Asked Questions
---
I would like to go with you to Haiti sometime, but I don't know a thing about radio.  Can I still come?
Absolutely!  We have radio experts who travel with us.  No radio experience is necessary.
---
Why is radio so important in Haiti?
Only about 30% of Haiti has electricity.  Of that 30%, much of it is stolen, and what there is often is inconsistent.  There are frequent blackouts, brownouts, voltage spikes or drops.
Because of this, very few people have computers, televisions, or such.  Even if electricity was readily available and reliable, most people cannot afford a television or computer.  So the basic 9-volt battery transistor radio is a key means of communication.  Radio Lumiere provides a much needed service in that capacity.
---
What do I need to know?
You need to know that it is best to be flexible, ready to "go-with-the-flow.  Cultures outside the U.S. and North America can be quite different from what we know or are used to.  Come with us with a positive attitude, ready for anything.
---
How long is a typical work trip?
Typically about 7 - 10 days.  We have already stayed for up to 2 weeks, but that is relatively rare.  Usually we schedule the trip over two weekends, so it is about 5 to 6 days of work or school missed, if that is an issue.
---
What time of year do we go?
Usually between January and March.  The Caribbean is quite nice in the winter!  Our time frame depends on the Radio Lumiere staff's schedule and when Haitian Carnival occurs.
---
Is it safe to go to Haiti?
We think so.  It is typically no more or less safe than where you might go or what you might do anywhere in the U.S.  Use good judgment and common sense.
Periodically issues will arise that might warrant extra consideration.  We are sure to do our research and then make an educated decision.  Safety on our projects is the highest priority of our Haitian hosts.
---
What language is spoken in Haiti?
The 'official' language is French.  The native or mother tongue is Haitian Kreyol (or Haitian Creole).  If a child is fortunate enough to be able to go to school, she/he will eventually learn four languages: French, Spanish, and English.  Kreyol is typically spoken at home and on the street.
---
Who or what is Radio Lumiere?
Radio Lumière (Lumiere is French for Light) is a network of eleven Christian radio stations and a Christian television station.  You can read more about Radio Lumiere here.
Radio Lumière belongs to the Evangelical Baptist Mission of South Haiti but is operated as a service to all of the evangelical churches. In fact, Radio Lumière is known as the voice of the Protestant Church in Haiti. Programming, staff, and financial support come from all of the evangelical denominations.
The network is made up of AM and FM stations connected by relay sites strategically placed on mountain tops around the country. Most of the programming is produced in Haitian Creole and French in one of the eight studios by a dedicated staff of evangelical Christians. The majority of the network stations also broadcast local and regional news as well as relaying the network feed.
You can also read more about MEBSH here.
---
What exactly would I be doing on a work project?
We look for people who are flexible, willing to work, and willing to wait.  We primarily are doing construction-and maintenance related work: carpentry, painting, building and assembling.  We also encourage our team members to get to know our friends and neighbors at the project site.
---
Are there opportunities for sight-seeing and recreation?
Yes!  Typically toward the end of our time in Haiti after we are done with our project we will take a day off for rest, relaxation, and sight-seeing.  There are resorts in Haiti; if there is one nearby our work site we may visit it.
There are usually opportunities for purchasing souvenirs also; just be mindful of the room you might need for them on the return home.
---
What opportunities for teaching are there?
We typically invite youth and young adults from both the States and from Haiti to join us.  This gives an opportunity for us to expose people to construction practices and techniques that they might not otherwise have an opportunity to be exposed to.
Often our work sites have children and families around us.  We often are adjacent to a church in the MEBSH network.  This affords us an opportunity to interact with children and adults who often know more than one language.  Typically we have team members who know Haitian Kreyol.  With that we are able to interact and communicate about a variety of things.  Sometimes it might be a child sharing their schoolwork.  Other times it is our teammates showing someone how to perform a construction-related task.  Often times our Haitian hosts are very curious and inquisitive.  For some of them it might be the first time that they have ever met someone from outside their neighborhood, let alone their country.
---
Is there a cost to go?
Yes, there is a cost.  It will vary a little bit from project to project.  We go over costs and discuss fund-raising opportunities with interested participants.
---
What part does World Gospel Mission have in the projects?
World Gospel Mission partners with us in a variety of ways. They offer guidance, some logistical support, and group insurance while we are on our project. They also offer devotional materials for the work group.
Here is their mission statement from their website:
World Gospel Mission partners with individuals and churches worldwide to make disciples of Christ and encourage believers to become missions-active through ministries that reach the whole person—physically and spiritually—transforming communities.
---
What part does the Mennonite Foundation have in the projects?
The Mennonite Foundation, an affiliation of Everence, is a third-party entity that we use for transparency and chain-of-custody of funds.  People can make tax-deductible contributions to our endeavors through them or do so directly to Least of These Ministries.
---
What are the travel and lodging accomodations?
Typically we fly commercial air from the northeast U.S. (typically JFK International Airport in New York) to Port-au-Prince.  From there we might travel either over the road in a truck or van, or fly to our final destination in-country, depending on distance and what day of the week.
Accommodations are typically a guest house for missionaries and work teams or a small hotel.
---
What is the food like?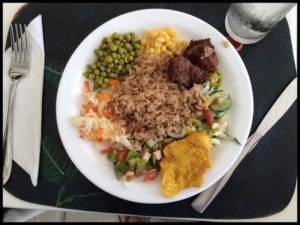 Tasty!  Actually, while Haitian food is unique and has a flavor reflective of the culture and locale, it has some similarities to U.S. food.
Regardless, our teams typically hire a Haitian cook who works for us for the duration of our time at the project site.  The cook and her helpers often times have experience cooking for North American teams and have some familiarity with the typical U.S. palate.
All-in-all this offers a delightful experience for you as you will have opportunity for trying Haitian food while still experiencing some tastes of home.
---
Is it safe to drink the water?
We only trust drinking it out of a sealed water bottle where the cap seal must be broken (or a soda bottle where we see the cap physically taken off--either pour it into a glass or drink with a straw).  You will see lots of 5 gallon bottled water dispensers.  These are okay to drink from; again, if the bottle was sealed before being installed into the water dispenser.
---
What about health issues?
We typically have a medical professional (usually a nurse) on our team or we are near access to a medical facility.
There are certain inoculations that need to be obtained or certain that you are up-to-date with.  These things can be discussed as you plan out your experience with us.
---
May I bring a friend?
Certainly!