The storms couldn't chase us or our supporters away on July 12th as we held our annual fundraiser meal and presentation, "Picnic in the Park" at the East Lampeter Township Community Park, east of Lancaster, PA.  Over 40 people came out, along with quite a few more who drove through and picked up their meals.  We heard what has been happening in Haiti regarding our lead contact Peniel Mizaire, Radio Lumiere, and conditions on the street, especially in light of the recent assassination of Haiti's president.  Please continue to pray for our sisters and brothers in Haiti as it often times seems like they can never catch a break.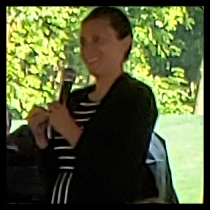 Everyone enjoyed, either in person or takeout, a delicious chicken barbeque dinner from Peters' Barbeque of Manheim. 
Jennifer Knepper from Gifts That Give Hope was our special presenter that evening.  She shared the mission of GTGH: promoting charitable alternative giving through an annual gift fair that offers the  community an opportunity to give "giftable donations" in honor of their loved ones, friends, and other causes that they believe in.

Board Chair Keith Bellesfield spoke to the group about our Special Programs Initiative.  All of us were shocked and saddened to learn of the untimely passing of Mehdi Mourad, our first and one of our current Special Programs participants.  Mehdi lost his life in a vehicle accident while on his way to assist in his role as a volunteer fire fighter near his home outside of Mattoon, Illinois.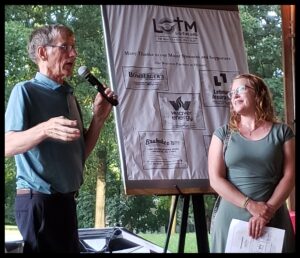 Executive Director Dale Long told the assembly about our upcoming project where he and LOTM Board member Dave Olson, along with a third team member, will be heading to southern Haiti in a few weeks.  While there they will be assisting Peniel in repairing a troublesome transmitter, along with other diagnostic and technical work to get the Torbeck station back on the air.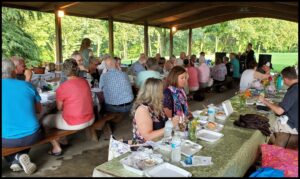 We are so thankful and blessed to once again have these local businesses as Partners in Ministry in support of this year's Picnic in the Park. It was because of their generosity that we were able to put on this event.  It is with much gratitude we thank:
Bomberger's Store  Lititz, PA
Brubaker Inc.  Lancaster, PA
Paul B Hardware  Lititz, PA
Lehman Insurance  Ephrata, PA
Peters' Barbeque  Manheim, PA
Speedwell Construction  Manheim, PA
Weaver Energy  Lititz, PA
In addition we are grateful for the generosity of so many; especially the following:
Gold Level
Keith & Ernestine Lehman  Ephrata, PA
Jay & Marilyn  Shaub  Lititz, PA
Silver Level
Terry & Carol Bellesfield  Northampton, PA
Sandy Buckwalter Lititz, PA
Dolores Ebersole  Manheim, PA
Andrew Forsyth  Dillsburg, PA
Roy Hoover  New Holland, PA
Lyndell Martin  Ephrata, PA
Bryan & Terri McGinniss  Brookeville, MD
Mahlon & Mary Ella Newswanger  Lancaster, PA
Martha Thiesen  Lancaster, PA
Bronze Level
Harry Bauder  Elizabethtown, PA
Isidoro Brunori  Gap, PA
Harry Bump  Richland, PA
Clair & Elaine Dise  New Holland, PA
Carol Harner  Narvon, PA
Nathan & Nancy Isaac  Lancaster, PA
Dr. Paul Kelley  New Holland, PA
Chris & Laura Long  Lititz, PA
Dale Long  Lititz, PA
Overall we raised over $11,000 from this year's Picnic in the Park!  We are collecting donations until the end of the month of July.
Our heartfelt thanks to all of you who support us both prayerfully and financially in our mission!  We are especially grateful for all who braved the thunderstorms and downpours to join us for our event!